Clutch
by Lisa Becker
Narrator: Suzanne Barbetta
Length: 8 hours 11 minutes
Released: May 30th 2018
Publisher: Lisa Willet Becker
Genre: Contemporary Romance

The Book Junkie Reads . . . Review of . . . CLUTCH . . . Can I say that she was seriously in to her purses, handbags, ect. . . This was a fun read. It got me through an afternoon enjoying the weather. It was pleasant, pleasing, and took me on a ride of a young adult into her maturity. She was strong, independent, intelligent, needed, and determined. Caroline knew what she wanted to do with her life since she was a small girl and her Aunt Meme introduced her to her first clutch at seven. She followed her dreams to finish design school. She further her dream by reaching higher with auntie's persuasion to get a business degree. That may have been her best decision in the world because there she met her clutch and didn't even know it. Mike was there for her through it all. Years of terrible decisions and even worst choices in men, from art shows, to customer hookup, to bump in and even old classmates. Caroline had her life put out there. We see it all unfold. This was more than just a romance. This was Caroline's life. This was chick-lit, women;s fiction, and a bit of romance on the side. We see it all.
Narration from Suzanne Barbetta was a nice addition to this story. I did not find anything that was overwhelmingly a clutch for me but it was a layer of clear, clean audio that gave visualization to the story of Caroline Johnson's life.
I received this audiobook as part of my participation in a blog tour with Audiobookworm Promotions. The tour is being sponsored by Lisa Becker. The gifting of this audiobook did not affect my opinion of it.

clutch: a novel is the laugh-out-loud, chick lit romance chronicling the dating misadventures of Caroline Johnson, a single purse designer who compares her unsuccessful romantic relationships to styles of handbags – the "Hobo" starving artist, the "Diaper Bag" single dad, the "Briefcase" intense businessman, etc. With her best friend, bar owner Mike by her side, the overly-accommodating Caroline drinks a lot of Chardonnay, puts her heart on the line, endures her share of unworthy suitors and finds the courage to discover the "Clutch" or someone she wants to hold onto.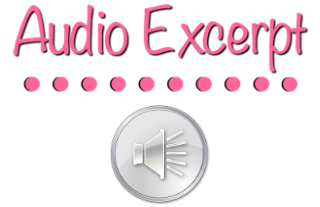 Lisa Becker is a romance writer who spends her time like she spends her money - on books and margaritas. In addition to Clutch: a novel, she is the author of the Click trilogy, a contemporary romance series about online dating and Links, a standalone, second chance romance readers call light, fun, sexy and smart. As Lisa's grandmother used to say, "For every chair, there's a tush." Lisa is now happily married to a wonderful man she met online and lives in Manhattan Beach, California with him and their two daughters. So, if it happened for her, there's hope for anyone! You can share your love stories with her at
www.lisawbecker.com
.
Q&A with Author Lisa Becker
Were there any real-life inspirations behind your writing?

When I was writing the Click trilogy, (

Click: An Online Love Story

,

Double Click

, and

Right Click

), I was obsessed with NCIS re-runs and would have the show on in the background as I wrote. There was an episode where a character refers to a man as a "handbag husband," or something useless you carry on your arm. I started thinking about that, and the idea for Clutch grew from there. I believe that everyone deserves a happily ever after and would like to think there's a "clutch," or someone worth holding onto, out there for everyone.

If this title were being made into a TV series or movie, who would you cast to play the primary roles?

I think Eloise Mumford, who played Kate in Fifty Shades of Grey, would make an outstanding Caroline. She has the right mixture of warmth, gumption, vulnerability, and beauty to bring this character to life. I still can't decide who would play Mike, although I know I'd love to sit in on those casting sessions. ;)

How did you celebrate after finishing this novel?

In the past, when I've typed the final "the end" on a manuscript, I celebrate with a box of my favorite chocolates. However, with Clutch, I thought it fitting to buy myself a new purse – a Michael Kors shoulder bag that I use every day.

How did you select your narrator?

When searching for a narrator, it was important for me to find someone who really understood not only the individuality of each character but the unique dynamic between the two main leads. I needed someone who could make Caroline relatable and showcase her intelligence, ambition, vulnerability and hopefulness in finding true love. And at the same time, the narrator needed to bring to life Mike's irreverence, sense of humor, loyalty and drive. Early on in my search, I was lucky to find the very talented Suzanne Barbetta who was able to capture all of this effortlessly.

Do you have any tips for authors going through the process of turning their books into audiobooks?

Spend the time and money necessary to find the right partner who is professional, personable and truly gets the material. There's a magic that happens when the connection is right, and you'll reap the benefits from that to more than compensate for your initial investment.

Is there a particular part of this story that you feel is more resonating in the audiobook performance than in the book format?

There are quite a number of a quick-witted exchanges between Caroline and Mike including the use of clever puns and rapid-fire jokes back and forth. I think an audiobook is a great way for those to come across and bring out the humor in the story, as long as you have a talented narrator with comedic timing and an understanding of the dynamics between characters. Again, I feel so lucky to be working with the talented Suzanne Barbetta as she was able to capture the chemistry between these two characters, which is the heart of the story.

What do you say to those who view listening to audiobooks as "cheating" or as inferior to "real reading"?

I love the idea of audiobooks and giving people the opportunity to enjoy amazing storytelling in a convenient and accessible way. So, whether you want to read a book in a traditional manner or listen to a story while exercising, making dinner, lounging around or doing a myriad of other things, the important point is that you are enjoying the escapism and the beauty of the written word.

Was a possible audiobook recording something you were conscious of while writing?

Clutch actually started out as a screenplay that had been optioned by a production company at Sony Studios. The movie didn't progress past the initial stages, so I turned it into a novel to bring this light and breezy story about love and handbags to the public. It was only after I received so many positive reviews of the story, its characters, humor and heart, did I think to turn it into an audiobook. I'm thrilled to have the opportunity to expand the reach of this story that hopefully will inspire people to seek out their own happily ever after.

What gets you out of a writing slump? What about a reading slump?

Like all writers, I've encountered my share of writer's block. My solution: Chocolate! No joke, I eat chocolate. If I'm stuck on a certain section or not feeling motivated to write, I give myself little chocolate incentives to get past the blockage. Judging by my thighs, I had some serious problems writing this book. ;) I'm not sure I've ever been in a reading slump, though. If anything, I need to find ways to stop reading so much, as it sometimes affects time with my family or work.

What's next for you?

Included in Clutch is a preview of my next book, Starfish, a new adult story of unexpected love, the redemptive power of music and hogging the bed. Starfish is expected to be released in spring 2019.

Suzanne Barbetta became a voracious reader when she realized the magic of books allowed her to become anyone, anywhere, and in any world. A storyteller and performer since age 5, she later apprenticed at 2 regional theaters and earned her Actor's Equity card. She's also a proud member of SAG-AFTRA, the Audio Publishers Association and the League of Professional Theatre Women. Audiobooks are a way to satisfy her pathological addiction to reading. Now based in NYC, she is also the voice of the Fierce, Funny, Fab Fangirls of the series Geek Actually for Serial Box Publishing.