THE RAGE OF SAINTS
The Watcher Epic, #2
by S.A. Klopfenstein
Narrator: Stacey Krejci
Length: 15 hours 24 minutes
Released: August 10th 2020
Publisher: S.A. Klopfenstein
Genre: Fantasy; YA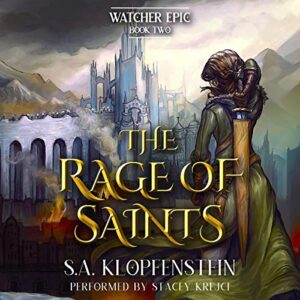 The Book Junkie Reads . . . Review of . . . THE RAGE OF SAINTS (The Watcher Epic, #2) . . . Fantastic world of fantasy, determination, strength, resilience, friendship, truth, life,and so much more. Yes, here is where I tell you that you should have read/listen to the first book of this series. But at the same time I want to tell you that you can jump right in from here. I had the pleasure of listening to the first book and did so again before getting started on this second adventure of Tori and Darien.
Why I say that you could jump in from here? Well I say this because a friends was working in my space during the listen of The Rage of Saints, book two, and was all aboard from beginning to end. During our lunch break we discussed what we listened to up to that point. It was great. By the end of the three days it took us to listen, debate, question, and listen so more, let me just say that S.A. Klopfenstein got a new follower. I gifted a copy of both one and two of the series for future enjoyment. And if two adult were not enough of an endorsement, I got my pre-teen on the bandwagon. She loves the empowerment of girls angle and the adventure just added more.

I received this audiobook as part of my participation in a blog tour with Audiobookworm Promotions. The tour is being sponsored by S.A. Klopfenstein. The gifting of this audiobook did not affect my opinion of it.

Now she's starting a war.
The Shadow Watch has been undone. Their captain lies in the dungeons of the White Citadel, and the Gallows Girl has disappeared.
Most of the surviving Watchers have joined the chancellor's new magical army, the Sky Guard, led by Darien Redvar, but the Gallows Boy is shaken from the return of the monsters of the Old World, and he must soon choose, once and for all, where his loyalties lie.
T
ori treks to the Great White North with an Alyut shaman, who believes she is the one who will bring Restoration to his people. A resistance is growing in the North, but Tori may not be the god the people are looking for, and the price of revolution may cost Tori her heart as well as her life.
Meanwhile, another threat grows in strength. Old World monsters are rising up across the New World, and no one knows how they've returned. As nations ready themselves for a magical war, their return threatens to change everything.
New alliances are set in place, new friendships are forged, new loves kindled. But no one is safe, for there can be no war without betrayal.
Don't miss the latest installment in the best-selling epic fantasy series listeners are comparing to Mistborn and Throne of Glass!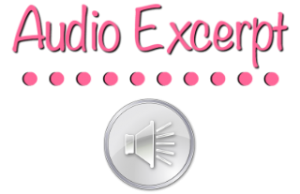 Tori Burodai (the Gallows Girl) - She is the heroine of the books. She was raised on the Yan Avii Steppe with her mother, but spent most of her formative years as a slave in the Oshan Empire. She soon learns she can wield magic, though few sorcerers still exist in her world. She is tough and pragmatic, but must wrestle with her demons in order to properly wield her magic and become the hopeful leader she is meant to be.
Darien Redvar - He is Tori's best friend as the story begins. He is an idealist as the story begins, but soon learns how difficult it truly is to resist an empire when is forced to serve in the chancellor's Legions. Can he resist his training, or will he become like the soldiers who slaughtered his family as a boy?
Ren Andovier - He is the leader of the Shadow Watch and a charismatic leader, though some of his training methods are a bit questionable. He has a great ability to inspire and motivate others, though his true intentions and reasons are not always clear.
Kale Andovier - He is the brooding younger brother to Ren. He does not seek the limelight and has many regrets from his past. He fights for those he loves, but he cares more than he often lets on.
Cyrus Maro (the chancellor) - He is the primary villain of the series. He fought his way to power, and is determined to prove his merit over the weakness of his ancestors.

He has a complicated and tragic backstory that slowly unravels as the story progresses. He is also very manipulative, and so, some characters may perceive him as being more noble than he may actually be. Some of you may hope to see some good in him as well. Maybe that hope is well-founded. Maybe he is manipulating you too.

S.A. Klopfenstein grew up on a steady dose of Tolkien and Star Wars. As a child, he wrote his first story about a sleepwalking killer who was executed by lethal injection. He lives in the American West with his wife and their dog, Iorek Byrnison. He can be found exploring the peaks of the Rocky Mountains, or daring the halls of the high school where he teaches English and mythology.


Plugging you into the audio community since 2016.
Sign up as a tour host
here.
Presented by