IRON AND SALT
The Bloodstone Quadrilogy, #3
by Calinda B
Narrator: Alex Black
Length: 6 hours 24 minutes
Released: October 1st 2020
Publisher: Calinda B
Genre: Dark Fantasy

The Book Junkie Reads . . . Review of . . . IRON AND SALT (Bloodstone Quadrilogy, #3) . . . Did you think that it was all coming to an end? Or did you feel it was all over? Its been twenty years and the small village of Ballynagual is not truly safe. It has been enough time for Paul to grow up and find that there is so much more in the world. He can never forget that his father was killed and the town that he lived in had something more to it. Twenty years later and the suspense of it all has only been simmer in the background. The darkness of this fantasy only opens the doors of the suspense of the event in the middle of a budding romance. This third installment only allows you to become more engrossed in the Bloodstone World.
Alex is back and I still love his voice and narration of this series that I am finding a very vivid world of dark creatures, alluring suspense, and a different kind of romance.
I received this audiobook as part of my participation in a blog tour with Audiobookworm Promotions. The tour is being sponsored by Calinda B. The gifting of this audiobook did not affect my opinion of it.

Supernaturals are real. And so are monsters.
I'm Paul Riordan, son of Siobhan Riordan, and I will never forget that my father was murdered.
Twenty years have passed since terror swept through Ballynagual. But that doesn't mean that evil is gone for good. There's a serial killer running loose in town, not to mention I'm in love with a woman I can't have, and she's in the crosshairs of the murderer.
Some people will die to protect their secrets. Others will kill to expose them.
Me? No worries. I just have to worry about dealing with the undead.
Iron and Salt is the suspenseful third book in the Bloodstone Quadrilogy by Calinda B. A dark fantasy series with tinges of horror and romance, prepare to be swept off your feet to a haunted landscape where dark creatures are real and forbidden desires come true.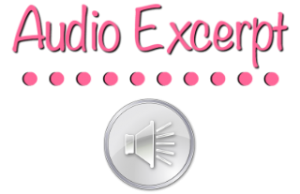 A New York Times, USA Today and #1 Amazon bestselling, award-winning author, Calinda B writes kick-ass heroines who don't know their own strength. When she's not writing, she's been known to fall off ice cliffs; fire walk with Eastern Europe fire officials; or wake up from a six weeks coma, wondering how she got there in the first place. She's been stuck in currents at Deception Pass in her kayak, and loves to swim with sharks. She greets every day with gratitude and an openness to what might be around the next corner. She's also an EMT serving her local community as a volunteer. Her tagline is, "Let's go save some lives!" With umpteen books roaming the universe and more in her head, you can find her at www.calindab.com. Or, if you want to stay connected, join the exclusive mailing list! http://www.calindab.com/newslettersignup.html
Alex Black is an articulate, engaging, and versatile narrator based in Cambridge, Vermont. He's worked in theatre, film, audio production, and appeared on radio. As an accomplished audiobook producer with over 90 titles, he's worked closely with independent authors and publishers. He's received more than 500 5 star reviews and specializes in Romance, Fantasy, Science Fiction, Apocalyptic, Mystery & Thriller, LGBTQ+, and Memoirs.


Plugging you into the audio community since 2016.

Sign up as a tour host

here.