Assassins of Landria, #1
by Gail Z. Martin
Narrator: Samuel Roukin
Length: 7 hours 42 minutes
Publisher: Recorded Books
Released: October 25th 2018
Genre: Fantasy

The Book Junkie Reads . . . Review of . . . ASSASSIN'S HONOR (Assassins of Landria, #1) . . .
FANTASY. FANTASY. FANTASY.
The places you can go when you open your mind to all that could be possible. The worlds created by Gail Z. Matin allow for one to gravel to these worlds and experience the fantasy, the magic, the journey.
Getting to know Ridge, Rett, Henri, Yefim Makary was just flat out interesting. There were moments of mistrust, fear, and uncertainty. The relationship between Ridge and Rett was tight almost bonding. Then add in Henri. The action, adventure, suspense, secrets, political strife (real or perceived) and the build of it all was how the story carried well for me.
The fantasy was filled with intensity and intrigue. There was more that I wanted and a lot that I got. This was not just a one man show. There were full cast of characters that were not just side pawns.
The narration by Samuel Roukin was on-point. He delivered a very good performance. The clarity in characters. The pacing, tone, and diction were all there. You were not left wondering without direction and distinction.
I received this audiobook as part of my participation in a blog tour with Audiobookworm Promotions. The tour is being sponsored by Gail Z. Martin. The gifting of this audiobook did not affect my opinion of it.

Joel 'Ridge' Breckenridge—Liam Hemsworth
Garrett 'Rett' Kinnard—Hale Appleman
Henri—Richard Speight, Jr.
Burke—Mark Sheppard

First in the new Assassins of Landria series from the award-winning, best-selling author of Scourge: A Novel of Darkhurst, and the Chronicles of the Necromancer books!
Friends since their orphanage childhood, Joel "Ridge" Breckinridge and Garrett "Rett" Kennard rose through the ranks of the Landrian army together, from teenaged conscripts to seasoned fighters. Together, they became the most feared team of assassins in Landria, surviving longer that most in their profession by virtue of excellent fighting skills, legendary bravado, peerless strategy, and an uncanny synchronicity. Henri, their long-suffering squire, tends to the thankless jobs of provisioning and logistics, while Ridge and Rett fight and recover.
When wandering mystic Yefim Makary becomes the darling of disenchanted aristocrats, Rett and Ridge fear Makary - or the Witch Lord, as his followers call him - is a threat to the crown. As treasonous whispers spread, Ridge and Rett go rogue to stop the threat, save the kingdom, and protect the king - while landing on the "Most Wanted" list themselves!



Gail Z. Martin writes urban fantasy, epic fantasy and steampunk for Solaris Books, Orbit Books, Falstaff Books, SOL Publishing and Darkwind Press. Urban fantasy series include Deadly Curiosities and the Night Vigil (Sons of Darkness). Epic fantasy series include Darkhurst, the Chronicles Of The Necromancer, the Fallen Kings Cycle, the Ascendant Kingdoms Saga, and the Assassins of Landria. Together with Larry N. Martin, she is the co-author of Iron & Blood, Storm & Fury (both Steampunk/alternate history), and the Spells Salt and Steel comedic horror series. Newest titles include Tangled Web, Vengeance, The Dark Road, and Assassin's Honor. As Morgan Brice, she writes urban fantasy MM paranormal romance, with her Witchbane and Badlands series.

Ridge—He's the older and taller of the two, and met Rett at the orphanage where they were both taken as children. He has vague memories of his family, who died from fever. Ridge stepped in to even the odds in a playground fight when Rett was outnumbered, and the two men have been best friends, close as brothers, ever since. Ridge was conscripted into the military two years ahead of Rett. When his partner was killed in action saving the king's life, the king offered Ridge anything he wanted. Ridge asked for Rett as his new partner. They rose through the ranks quickly to become assassins, and their penchant for taking crazy risks and making it work has made them the most successful assassins in the King's Shadows.
Rett—He's younger and shorter than Ridge, but quick and a good shot. Rett doesn't remember his family, and got by on the street being a thief and pickpocket until the monks caught him and brought him to the orphanage, where he met Ridge. Ridge taught him to read, and Rett taught Ridge to pick locks. Both Ridge and Rett have the Sight—the psychic ability to see whether a person has sold their soul to a dark mage. Rett also has visions, premonitions of what might happen. They keep their magic a secret, because only the priests are supposed to have those abilities.

Giveaway: 1-month Audible Subscription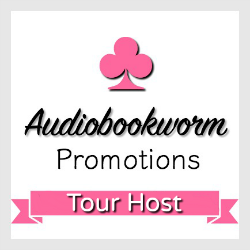 ➜Sign up as a host here
Presented by