MACK
Black Mountain Pack, #1
by Miranda Lynn
Narrator: Brian Callahan
Length: 4 hours 25 minutes
Publisher: Miranda Lynn
Released: August 4th 2017
Genre: Paranormal Romance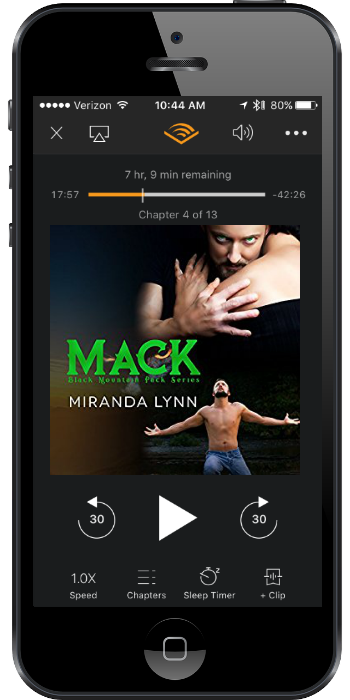 The Book Junkie Reads . . . Review of . . . MACK (Black Mountain Pack Series) . . .
Getting familiar with the Black Mountain Pack was fun. Taking part in the search for Casey. Feeling her fears while she knew someone was following her. Her learning who and what she was. This was engaging. The story was short and had much for Casey to learn. Her comprehension of the things around her and the new world she was now a part of. I would like to see what direction things go in now that the lost has been found and returned back home.
Narration of . . . MACK (Black Mountain Pack Series) . . .
Brian provided strong vocal for the characters. Each with a distinct presence. I felt a bit off centered with Mack having the more dominating voice over the alpha of the pack, but I learned to cope with it and moved on. The audio was smooth and transition seamlessly between chapters. There were no audio hiccups. The audio was able to keep up with speed changed. The quality clear. This was the perfect length for an afternoon drive-around.
I received this audiobook as part of my participation in a blog tour with Audiobookworm Promotions. The tour is being sponsored by Miranda Lynn. The gifting of this audiobook did not affect my opinion of it.

His missing sister or his mate?

Casey grew up in the foster care system and it wasn't easy. A whirlwind of events after she ages out shows her why. Her repressed shifter side emerges with the help of her soon to be mate and his pack. She does her best to learn who and what she as while under the pressure of being hunted by her biological father and his pack.

Mack has been searching for his adopted sister for years after her kidnapping and thinks he has finally found her. His shifter side on the other hand thinks they have found their mate. Fate throws them together in the midst of an oncoming battle and Mack lets instinct take over and follows his heart.

When the truth comes out the mating instinct takes over and together Mack and Casey change the rules of shifter laws once again.



​
Time Travel and Paranormal Romance author. Her Destiny series takes you on a roller coaster ride through time with sexy Highlanders and sassy female heroines. If shifters are your kryptonite then check out her Black Mountain Pack series which throws a
​
​
twist
​
​
on
​
​
the
​
​
traditional
​
​
shifter
​
​
lore.

Miranda is a mother to two teenage boys who are sure they know it all, a 75lb lapdog, a 15lb foot warmer, and a cat that most days plans her demise. She is thankful her husband doesn't mind the extra voices in her head. Miranda is an only child who grew up on a dairy farm in Illinois which left her plenty of time to make up stories in her head for entertainment. She currently resides in Tennessee where she wonder if Mother Nature will ever stop with the hormonal mood swings. She fuels herself with
​
​
coffee,
​
​
chocolate,
​
​
and
​
​
wine.

Brian is a three-time Emmy winner and on-air news personality. His diverse audiobook catalogue features one of Kirkus Reviews' "Best Indie Books" as well as an Independent Publisher Book Awards Finalist. Brian brings more than two decades of broadcasting experience to his voice work, which includes nearly 20 audiobooks available on Audible and iTunes. He lives with his wife and family in Seattle.
Author Links:

with Author Miranda Lynn
1.
Waffle fries or curly fries?
Waffle fries
2.
GIF with a hard g or soft g?
Hard g
3.
Fantasy or science-fiction?
Fantasy
4.
Superman or Batman?
Superman
5.
Text message or call?
Text
6.
Pancakes or waffles?
pancakes
7.
Doctor Who or the Walking Dead?
ugh...The tenth Dr otherwise Walking Dead
8.
TV Shows or movies?
Both
9.
Facebook or Twitter?
Facebok
10.
Alice in Wonderland or Robinson Crusoe?
Alice in Wonderland
11.
Being too warm or too cold?
Too warm
12.
Netflix or Hulu?
netflix
13.
Work Hard or Play Hard?
Play hard
14.
Passenger or Driver?
Driver
15.
Amusement Park or Day at the Beach?
Beach
16.
Honesty or Other's Feelings?
Careful Honesty
17.
Movie at Home or Movie at the Theater?
Movie at home

The Supernatural Pet Sitter Giveaway: $25 Visa Card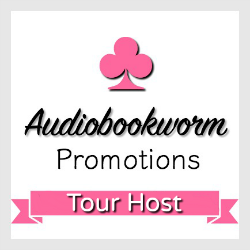 ➜
Sign up as a host

here
Presented by